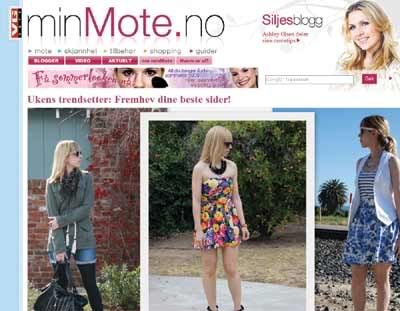 I'm honored and excited to see that Silje P., my favorite Scandinavian fashion blogger, whose blog and personal style I have admired and followed since the beginning, has featured me on her site. Thank you Silje! Unfortunately, I can't read Norwegian, but here's the rough translation of the interview:
1. Why did you start to blog? Back in the days when I was active on MySpace, I used to occasionally blog about shopping and trends. One day I was looking online for street style inspiration and came upon a network of great blogs which I never knew existed. I decided to stop using MySpace as a blogging platform and create a blog so I could have my own website and use it as a creative outlet and share my passion for shopping and fashion with like-minded people.

2. Were are you from, what do you do? I'm from southern California and I work as a trendspotter and fashion journalist. My background is in fashion trend forecasting, which (as silly as this may sound) is my main passion in life. I love to explore new cities and take photos of store windows, and I'm always interested in what's going to be the next big thing.

3. What is the story behind the blog's name? If there is any. Admittedly, my blog's name (Fashion Trend Guide) isn't creative, but fortunately, it results in quite a few readers via Google search results. When I was choosing the name, I wanted something descriptive, and Fashion Trend Guide just seemed right.

4. Describe your style. I don't really have a signature style, but I love the novelty that trends bring to the retail scene, and I follow trends closely. In general, I get dressed according to the weather, my mood, and for my activities for the day. If I had to classify my style this season, I'd say it's got a cheap-chic, casual California vibe mixed with a strong dose of '80s glam.

5. Your favorite accessories? Right now I have an affinity for oversize rings, body chains, studded belts, printed sunglasses, and strappy platforms. Last season, I stocked up on layered necklaces and bow ties. This summer, I'm wearing a lot of hats and colorful sunglasses. During winter, I favor printed scarves, fingerless gloves, and knit hats.

6. What will you splurge on for fall? I'll probably splurge on a pair of over-the-knee boots and some moto jeans with knee patches once I find some that I like. I'm also searching for some great lace-up boots with a sturdy heel.

7. Your best fashion advice? Wear what makes you feel comfortable, and know what your best features are so you can accentuate them! It's amazing what the right colors, proportions, and silhouettes can do for one's figure.

8. If you you are short on cash, but long for something new, you... hit the local thrift stores, where nothing costs more than $9 and there's always a vintage version of a current trend. Then there's also Forever 21, my guilty pleasure for inexpensive dresses and on-trend jewelry.

9. Your best shopping advice for people visiting southern California. On the second Sunday of each month, there's the Rose Bowl Flea Market in Pasadena. I highly recommend it for vintage, secondhand, and even new items ranging from couches and lamps to bikes and boots. You might even spot a celebrity or rock star...

10. What inspires you to keep writing the blog? Do you earn money from it and what do you find the most challenging? I could never tire of writing about fashion! Since the fashion industry moves so quickly and trends are constantly changing, it's an endless source of inspiration for me. I've been so fortunate to be able to earn money from all of the opportuntities that have come my way as a result of my blog. I think the most challenging aspect is keeping up with all of the PR emails I receive and reading the thousands of other style and fashion blogs that are out there. Blogs have become a powerful force in the media and will continue to change the way people interact, share information, and draw inspiration.

11. In an autum wedding you would be wearing... a strapless floral dress with a sparkly 3/4-sleeve cardigan, shiny bangles, and comfortable platform heels that would allow me to dance.

12. Style is... something that you're either born with or not.